Surfing Lessons Apollo Bay Great Ocean Road
No experience necessary, just a desire to ride the waves!
PLEASE NOTE THESE TOURS DO NOT RUN DAILY outside of the January & Easter School Holidays. Please call or email for availability or click on the 'Book Now' Button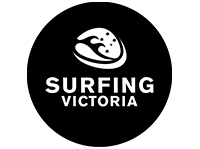 Please meet in front of the Surf Club in Apollo Bay.
1 1/2 hour lessons learning to surf with qualified coaches who teach in the water with you.
Instruction in Surf Safety and Ocean Awareness on Apollo Bay's safe surf beach. Learn in waist deep water with easy to ride waves.
Full-length wetsuits and safe soft 'G'-Boards with no sharp edges are provided to help to make your whole experience fun. We aim to get you standing first lesson!
Make new friends, meeting fellow learners and local, friendly instructors. Our staff are happy to answer any questions you may have.
Learn how to carry the boards safely and be respectful of other surfers. Our supportive and relaxed staff will help build your confidence in the water.
You need to be able to swim at least 50m.
CLASS BREAKDOWN
Meeting the instructor and other students and fitting of wetsuits. Boards and leg ropes are issued and sunscreen is applied!
Surf awareness talk to educate students and make them aware of the surf environment. Demonstration on how to carry the board safely and how to enter the water whilst being aware of other surfers.
How to lie and paddle on the board and how to catch broken waves.
Practising back on the beach, how to stand on the board and get to your feet, and how to aim the board.
In water instruction given and continued help of pushing students onto the waves.
End of class with an opportunity to ask further questions.
COST
The following prices are G.S.T inclusive:
1 1/2 Hour Surf Lessons Adults $75 per person (needs 2 people minimum for session to run)
For Multi lesson packages please contact us for availability.
Please pay & book online all lessons to avoid disappointment.
SURF GROMS HOLIDAY PROGRAM
Unfortunately due to covid restrictions we will not be running surf groms in Dec 2021, Jan 2022. As our Instructors and the kids have to social distance we feel that the fantastic 'hands on' teaching experience we usually offer will be compromised. Sorry to disappoint – but we will hopefully be back to normal next year 🙂
Call: 0405 495 909
Email: info@apollobaysurfkayak.com.au